With changes to the highway forcing this business to remodel, Sawnee Storage in Cumming, GA was already familiar with change. So it was only fitting that they have a website created to go along with their newly renovated facility.

This single page website was designed to put new storage customers at ease. A video at the top of the homepage introduces them to Sawnee Storage. Unit sizes and costs are displayed in a way that is simple and easy to understand. For those concerned about the safety of their items, security features are clearly explained. To minimize damage to items, some simple storage tips are shared for packing.

To be sure it is easy for potential customers to contact Sawnee Storage, contact information is provided in the header, video, leasing information, and in the footer of the site. A built-in contact form also makes it easy to send a message. For those unfamiliar with the business, an embedded Google Map makes it easy to locate the storage units.

Unique to this site is aerial footage of Sawnee Storage that plays in the background.

Primarily 2's and 3's
Primarily 2's and 3's is a pre-school for students ages 2-5 in Mt. Sinai, NY. They were in need of a simple, single page website to educate families of potential students about their program. An introductory video at the top of the homepage gives visitors a quick overview of the school. Background images feature actual artwork created by students of the preschool.

Special care was taken while designing this site to protect the privacy of the students and their families while still highlighting the playfulness and personal attention that parents can expect for their preschool student.

After taking some time off, Tony needed a way to let people know he was back to work doing what he does best--interior design and remodeling for homes and businesses in the Winfield, KS area. This simply designed site lets people know who they are doing business with and what services Tony's Interiors has available. A gallery of previous work and reviews from happy clients shows prospective clients the caliber of his work.

An embedded map showing Tony's service area let's prospective customers see if they would be a good fit, and the contact form makes it easy to request a consultation.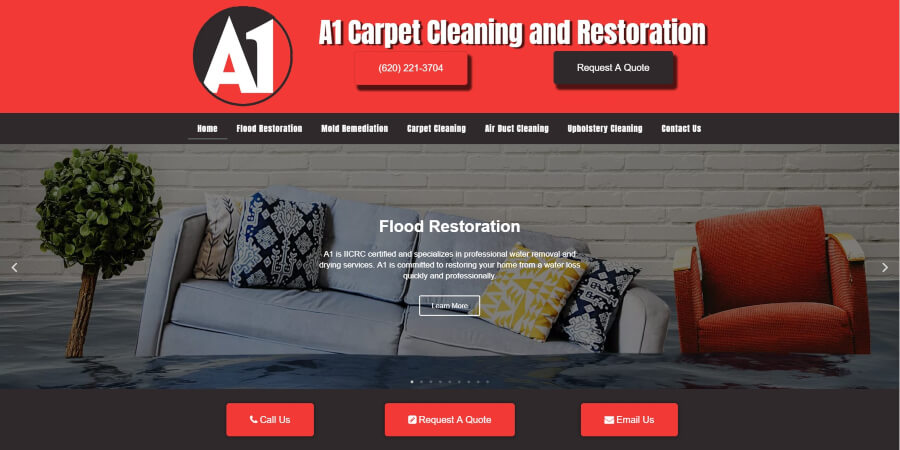 After expressing concerns about the cybersecurity of their previous website, A1 Carpet Cleaning & Restoration in Winfield, KS decided it was time for a website redesign and cybersecurity upgrade. By hosting with Custom Internet Services, A1 was able to take advantage of private hosting, server and endpoint firewalls, a free SSL certificate, and regular system updates. In the unlikely event that the site were to be crashed by an update, defaced by a hacker, or infected by malware, A1 is still protected by daily backups and disaster recovery capabilities.

In addition to the information about each of their services, reviews from happy clients were added to the site. It was also important to A1 that their branding was uniform across various platforms, so care was taken to incorporate images also being used in their new billboard.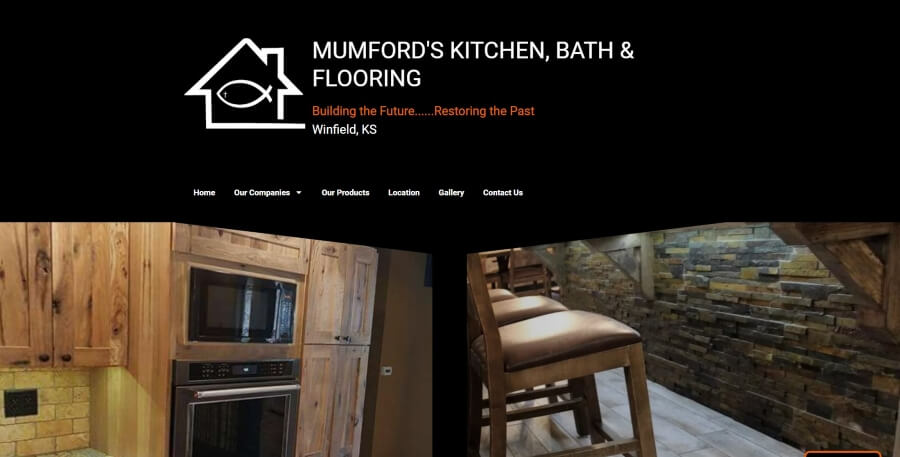 After opening their showroom in downtown, Winfield, KS, Mumford's Kitchen, Bath & Flooring needed a way to make contact with new, potential clients, as well as allow existing clients to make payments online.

Potential clients can see projects installed by Mumford's in their gallery and preview the product lines they carry before coming in to the store to view them in person. A built-in contact form protects the company's email from bots, but makes it easy to contact the owners with any construction or installation questions a homeowner may have. An embedded Google Map makes finding the business easy, even for those visiting from out-of-town.

After the purchase of remodeling supplies or installation of a project, clients can make an online payment by navigating to the website. This removes the barrier of clients having to drive over to the store or find and stamp and envelope to make a payment.

Even though their original website was built on a responsive framework, the Winfield Recreation Commission in Winfield, KS wanted to find a way to make their website easier to use with smart phones, while also updating the look and feel of the site. A custom, mobile header and hamburger menu make navigation through the site easy while using touch screens. The responsive design automatically resizes images and text to any given device's width. All images on the site were compressed to their smallest size to improve load time and decrease data usage. The lack of a border along the edges of the site means that as the screen size shrinks, more of the screen can be dedicated to content, rather than design elements.

Another goal of the website redesign was to work on search engine optimization (SEO) for the site. Some changes made to help search engines included adding header tags to text blocks, alt tags to images, and submitting a sitemap to both Google & Bing. Previously, only the most recent newsletters and program guides were kept on the site. By leaving up a year's worth these documents, search engines, as well as local athletes and fitness enthusiasts, can get a better picture of what the WRC looks like over the entire year, rather than just a month-long snapshot. The changes made to make the site more mobile friendly, such as compressing and resizing images and caching the website to increase the speed can also improve search engine ranking.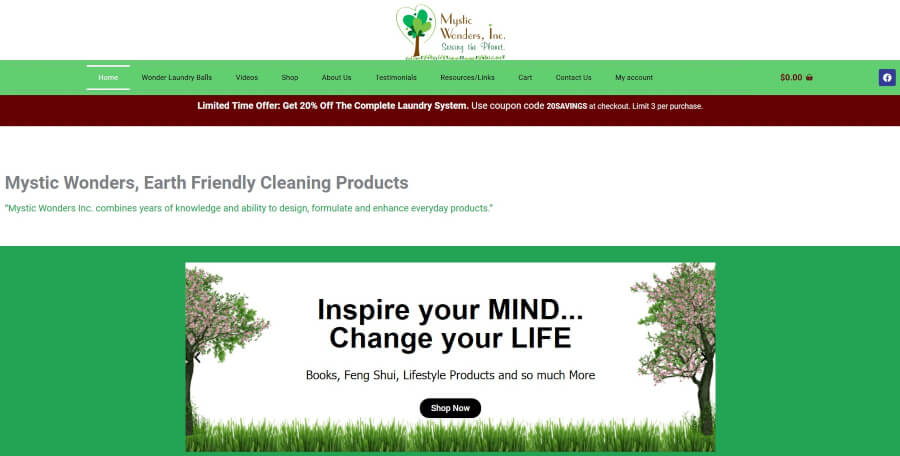 With her previous website manager retiring, Fern Gunderson, owner of Mystic Wonders, Inc. in Holstein, IA decided to take the plunge and switch her website to WordPress & WooCommerce. She already had a thriving e-commerce store, the transfer required not only moving her webpages to WordPress, but also transferring numerous products and customer accounts.

Orders and inventory of this e-commerce store can now be tracked via the WooCommerce dashboard. Returning customers can still access their old accounts and new customers have the ability to create new accounts on the site. When checking out, customers have the option of two different payment methods.

Educating the customer HAS ALWAYS BEEN important to Fern. The site contains lots of information for customers to educate themselves in the form of PDFs, FAQs, videos.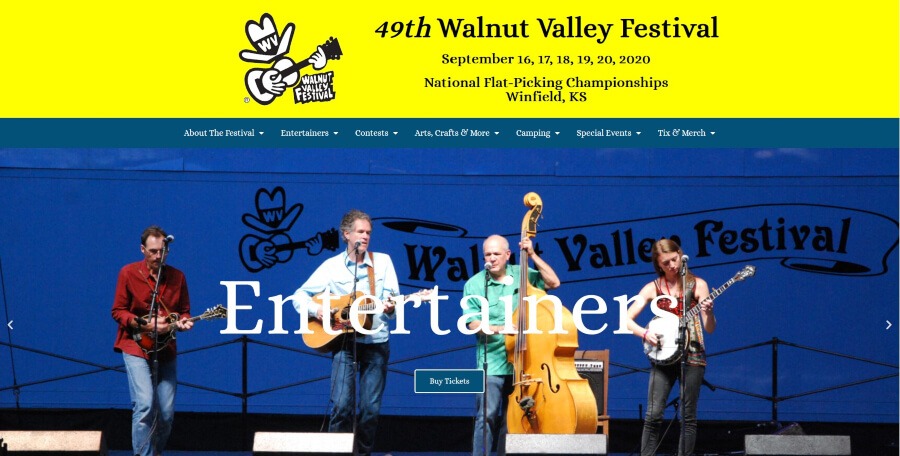 When deciding to update their website, the Walnut Valley Festival in Winfield, KS decided they could better serve their fans by separating their content into a site for the current festival--www.wvfest.com, and a second site for past festivals--www.pickersparadise.org. Custom Internet Services had the privilege of working on the site wvfest.com.

To make it easier for participants to register for events, online registration forms were added for Contests, Land Rush, and Workshops. Tickets for the festival can also be purchased online.

It was also important to the Festival that people get a feel for the event while visiting the site. For that reason, the homepage features large photos of entertainers, stages, contest participants, campgrounds, and arts & crafts booths. Further down you will find the identifiable "I Can't" bumper sticker, as well as a countdown to the start of the festival. Photos of entertainers, current champions, campsites, vendors, fans, and other sites to be seen at the festival were added liberally throughout the site.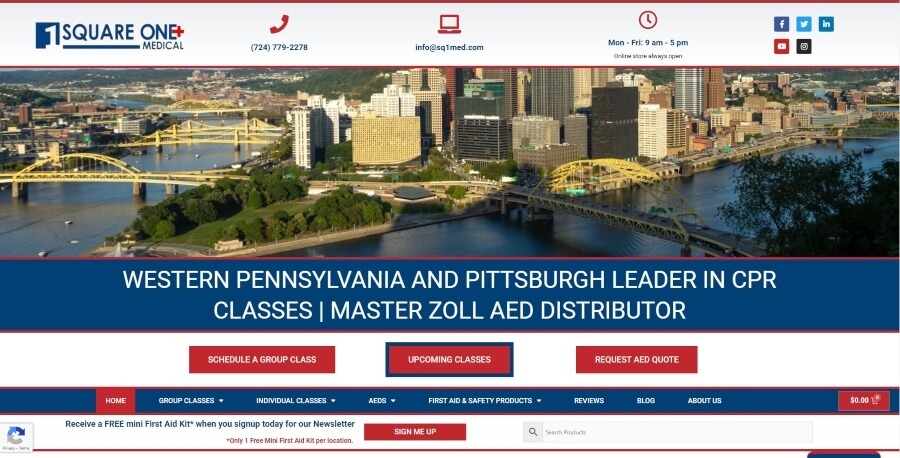 Square One Medical of Pittsburgh, PA is in the business of helping others save lives for the past 24 years--with the sale of AEDs, CPR Classes, Mobilize Trauma Kits, and more. Their previous site was not meeting their expectations so they decided to make the switch to WordPress & WooCommerce.

In addition to their numerous products for sale, this site also features online registration for Community CPR Classes, newsletter registration, product videos, a monthly blog and customer reviews.

It was important to Square One Medical that they be able to update the information on the site themselves, so as part of their website package they received training on making content updates.Owner, Kevin O'Neill has shared with us that in the past 24 years of being in business he has worked with multiple web companies, none of which were as easy to work with as Custom Internet Services.